16/04/2014
Why property prices are going up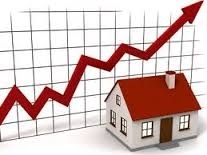 House prices have risen for 11 consecutive months for the first time since the financial crisis. This leaves Yakel, and all connected in a very promising position indeed. With house prices set to rise by over 8% by the end of 2014 according to Halifax and by 17% over the next five years, it would appear now is the ideal time to invest in property in the UK, whilst demand is still high and supply is low.
It's no good having facts, figures and percentages thrown at you and expect you to invest your hard earned money. Let this blog entry offer a simple explanation the UK's current economical climate and why investing in the UK housing market this year is such a smart idea.
All economics are based on the principle of supply and demand, When the demand for something increases, as is happening now in the property rental market, savvy investors see this as an ideal opportunity to make money. The property market has the added benefit of being notoriously low risk with stable returns on investments.
The buy-to-let market is being fuelled at the moment by the high demand of the rental market. Factors such as the lack of social housing, migration, affordable housing and restricted lending to the under performing asset classes, are persuading investors to get out of paper investments, which can be risky and volatile and in to something more tangible like property investment, which is strong and reliable.
It is important to note that timing is of the essence when it comes to investment. What I mean by this is that at the moment the demand for housing is much more fierce than the supply of affordable housing, which will drive people in to renting. Simon Rubinsohn (Chief economist at RICS) stated earlier this week that, "if prices rise by 25 percent across the country (over the next five years) it's going to be incredibly difficult for first-time buyers to get on the ladder and more people will go in to renting.
Susan Emmett (director of residential research, Savills) gave us her view earlier this week in an interview with The Times, "Despite an increase in house building the numbers we are delivering still lag well below what we need. We need 240,000 new homes a year in England. Last year we built 110,000". This is significant as at the moment, whilst the supply of new homes is still low, people unable to get on the property ladder will be driven to renting property and therefore creating an opening for Yakel and its clients. Take advantage of the current economic status within the UK and by making your investment in bricks and mortar.
Written By Luke Topping